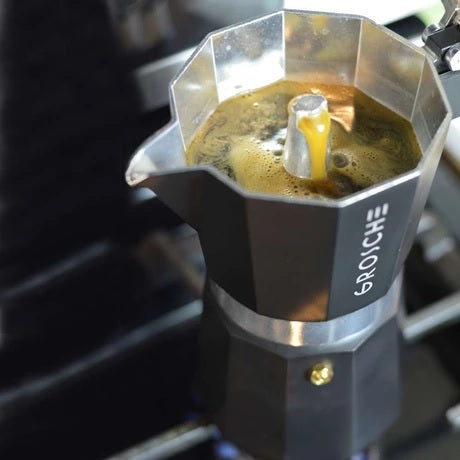 Grosche - Milano Black Stovetop 6 Cup Espresso Maker
The Milano Stovetop Espresso Moka pot is perfect for anyone who loves the taste of delicious espresso. The Milano will make your espresso experience perfect every time. This espresso machine is made from food safe aluminium with heat resistant handle and knob, and a non-toxic silicon gasket seal. Medium-fine coffee grounds should be used with the espresso pot, although, it's recommended that you grind your own coffee grounds in your coffee grinder and test them out in your Milano. The Milano is not to be used on induction stove tops.
Firstly remove the top part and the filter funnel of the coffee maker and fill the lower part with fresh water. Make sure not to fill past the safety valve.

 

TIP: Preheat your water before filling the boiler to make your brewing process faster and more consistent!
Then fill the filter funnel with freshly fine ground espresso coffee. Once that's done, put the filter funnel back into the lower part of the MILANO and screw the top part back on.

 

We highly recommend Espresso Yourself Italian Espresso Coffee by Coffee Stiles as our favorite coffee for the Milano Stovetop Espresso maker.
Next, put the MILANO on your stove on a low-medium flame setting. Turn the stove down when coffee bubbles up from the filter funnel and into the upper section. The gurgling sound will have stopped indicating the coffee is ready
Finally, remove the MILANO from your stovetop and serve. You can drink the coffee as a strong, flavourful espresso or use as a base for a cappuccino.
Features
Size: 6 cup. Certified safety valve. Italian design.