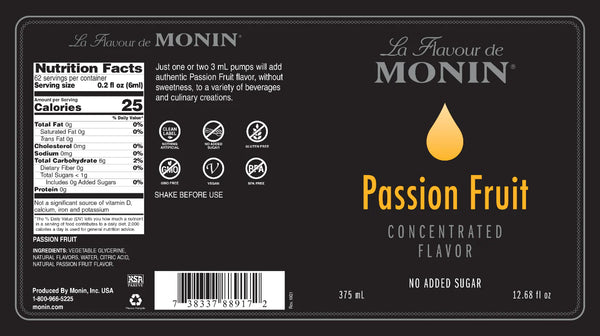 Monin® - Passion Fruit Concentrated Flavouring 375ML
Versatile and Delicious
Add this concentrate to teas, martinis, water, or lemonades to add a simple, authentic flavor to your drinks without making them too sweet. You can even use this concentrate in marinades, sauces, and glazes to bring new, exciting flavors to your menu!
Monin Passion Fruit Concentrated flavour adds multidimensional natural, authentic passion fruit flavour without sweeteners or artificial ingredients to all beverage and culinary creations, from martinis and iced teas to sauces and glazes.
Create anything from refreshing Passion Fruit Lemonade to a tropical seafood marinade.
Add just 3 to 6 mL of this super concentrated all-natural flavor to each beverage or recipe serving. It is highly recommended to use the Monin 3 mL pump, exclusively designed to fit this bottle, to accurately portion and dispense this concentrate as each serving only requires one or two pumps. Each bottle can make up to 125 drinks when used with a pump.
Fresh and Natural Flavor
Completely unsweetened with no artificial colors, preservatives, sweeteners, or ingredients, this concentrate boasts a pure and authentic, fresh flavor to any recipe.
Allergen and Gluten-Free
This aromatic, flavorful concentrate features the tropical flavor of rich chocolate, and has the added bonus of being both allergen and gluten-free as well as suitable for vegan consumption.
Ingredient and nutritional information are updated continually and online information may differ from the actual product received. Although Monin strives to keep everything as up-to-date as possible, always check the physical label to verify nutritional information for the actual product you have received.
PUMP SOLD SEPARATELY